Sacramento County California
Obituaries
Mitchell Alexander, Jr.
Sunrise: November 15, 1926
Sunset: July 1, 2005
Services: Thursday, July 7, 2005, 10a.m.
Antioch Progressive Baptist Church
7650 Amherst Street
Sacramento, CA 95832
Officiating: Dr. Curtis J. Mitchell, Pastor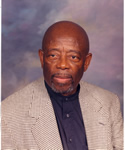 Mitchell Alexander, Jr. lovingly called "D" and Deeda by his children, was born November 15, 1926 in Paduca, Texas to Mitchell Alexander and Minnie Evelina Richardson. He was the first born of five children to Mitchell and Minnie. Mitchell was raised in a loving family in Midland, Texas.
Mitchell attended Carver High school in Midland, TX from 1939 to 1943, when he left school to help support his family. Although he left school early, Mitchell had a thirst for knowledge and a love for reading books to improve himself and his future which led to his love of the English language and an extensive vocabulary. He became highly self-educated by reading a wide variety of books and taking various courses on world history, politics and religion.
In July 1945, Mitchell enlisted in the United States Army at Ft. Bliss, El Paso, Texas and developed the skills of a clothing tailor. During his two-year tour of the military he was stationed at Ft. Sam Houston in Texas, Ft. Lee in Virginia, Camp Beale in California, and Ft. Lawton in Washington, before being sent overseas aboard the USS Ellington. While serving overseas, Mitchell was stationed in Incheon and Seoul Korea, then Kiyoto, Hiroshima, Nara, and Yokohama Japan before returning to the United States at Camp Beale, CA on the USS Aiken Victory. Mitchell earned the World War II Victory and Army of Occupation Medals. He received an Honorable Discharge in February 1947 and returned home to Midland, TX.
Mitchell had a congenial personality, was very social, loved to converse and laugh with friends and family, a genuine heart, a captivating smile, and a spirit that would light up the room. Drawn to his spirit was Dorothy L. Turpin who he married in March 1944, before entering the United States Army. Their marriage was blessed with three daughters, Rita Yvonne, Thelma Jean, and Brenda Louise. His spirit also touched the life of Rose M. Brown (deceased), and they married in September 1953. In addition to three children from Roseís previous marriage, Shirley, Wilbert, and Sandra, Mitchell and Rose were blessed with two daughters, Michelle Rena and Alexis Rose and one son, Mitchell III. Later in life his spirit also touched Lezli R. Taylor and they married in June 1981. Their marriage was blessed with one daughter, Tristan Leah and one son, Reggie Latoine. In December 2000, he met and married his current wife, Lilia Barba, in the Philippines and completed his lifeís journey of love with her. Because Mitchell had a generous heart that was lead by the spirit, he was blessed with two wonderful God daughters and their families, Barbara (Ray) Muse and Kim (Ray) Williams. Mitchell was preceded in death by both parents, two sisters, and two of his children, Wilbert and Jean.
After leaving the military in 1947, Mitchell moved his family from Texas to Arizona, then to Southern California in 1950 where he worked at the General Motors Automobile factory for a few years. Mitchell was a hard working self-employed teen and young man with a God given talent Ė "the gift of gab"! He had a variety of jobs selling everything from vacuum cleaners to televisions. In 1963 he decided to move his family to Northern California and worked for the AC Transit Bus Line for a few years while learning the Life Insurance business and becoming a licensed insurance agent. He continued employment as an independent agent for several insurance companies winning several monetary awards and vacation trips until the time of his passing.
Throughout his life Mitchell enjoyed bowling, playing cards and dominoes, sports, dancing and all forms of music. He really loved to dance and sing with his children and taught them all of the latest dance steps as they were growing up. He was blessed with a strong baritone/bass voice and used his musical talent to enhance the sounds of many acappella and instrumental groups. He sang lead and background vocals for rhythm and blues, jazz and gospel groups. He enjoyed singing gospel songs in the church above all other forms of music.
Mitchell accepted the Lord as his savior and was baptized in 1941 at Macedonia Baptist Church in Midland, TX by Reverend H. F. Doyle. Mitchellís involvement with many churches led him to work attentively for the Lord. He became a founding member of Antioch Progressive Baptist Church in Sacramento, CA on December 5, 1985. His faith empowered him to give of himself and help others. The work he was blessed to perform through Christ led him to share his wisdom and knowledge with many family members and friends. This was demonstrated in his life-long volunteer activities and memberships such as:
Sons of Thunder Male Chorus
Member of the Deacon Ministry
Angelic Host Choir
Menís Sunday School Class Teacher
Leader of the Tribe of Ephraim
Volunteer with the Tuesday Food Program
Active Participant in the Menís Fellowship
Held Home Bible Studies to share the Word of God with everyone he met
Volunteered and Participated in various other Church Ministries
Mitchell leaves us to cherish many memories of his laughter and love. He is survived by his devoted and loving wife of 5 years, Lilia Barba Alexander, 7 daughters Rita & Brenda Alexander, Shirley Robinson, Sandra Wilson, Michelle (Charles) Crowell, Alexis (Michael) Gramling, Tristan Alexander, 2 sons Mitchell Alexander III, Reggie (Jamaica) Alexander, his brother Clarence E. (Mary) Alexander, his sister Doris M. (Gerald) Lynch, his 99 yr old aunt Hattie Hibbitt, 23 grandchildren, several godchildren and a host of great grandchildren, nieces, nephews, cousins and loving friends.
Rest Peacefully in Godís Hands
Active Pallbearers:
Deacon Robert Atkins
Brother Steven Forrester
Brother Bernard Herbert
Deacon Geary McKoy
Deacon D. Edward Pratt
Brother Greg Whatley
Honorary Pallbearers:
Mitchell Alexander III
Clarence E. Alexander
Charles Crowell
Michael Gramling
Brother Alton Boddie
Rev. Tony Byrd
Rev. Larry Callahan
Rev. Raymond Moseley
Rev. Ray Muse
Deacon Frank Rasberry
Deacon Alfred Stieff
Appreciation
The family of Mitchell Alexander, Jr. sincerely wishes to express their gratitude for the outpouring of love and memories shared during our time of bereavement. Perhaps you sent a lovely card, or sat quietly in a chair. Perhaps you sent a funeral spray, if so, we saw it there. Perhaps you spoke the kindest words as any friend could say. Perhaps you were not here at all, just thought of us that day. Whatever you did to console our hearts, we thank you so much, whatever the part.
ÖThe Family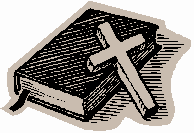 When I am gone, release me, and let me go,
I have so many things to see and do.
You must not tie yourself to me with tears;
Be happy that we had so many years.
I gave you my love Ė you can only guess
How much you gave me in happiness.
I thank you for the love you each have shown;
But now, it is time I traveled on alone.
So, grieve a while for me, if grieve you must,
Then let your grief be comforted by trust.
Itís only for a while that we must part,
So bless the memories within your heart.
I wonít be far away, for life goes on;
So if you need me, call and I will come.
Though you canít see or touch me, Iíll be near,
And if you listen with your heart, youíll hear
All of my love around you, soft and dear.
And then, when you must come this way alone,
Iíll greet you with a smile and wave,
"Welcome Home"!
Contributed by your Grandson Ė Michael L. Alexander
Funeral Directors in ChargeÖ
Sacramento Memorial Cemetery
Christopher Gaisford
6100 Stockton Blvd., Sacramento, CA 95824
(916) 421-1171
Interment
Sunrise Memorial Cemetery
2201 Sacramento Street
Vallejo, CA 94590
The repast follows the interment at 6pm
Antioch Progressive Baptist Church
7650 Amherst Street
Sacramento, CA 95832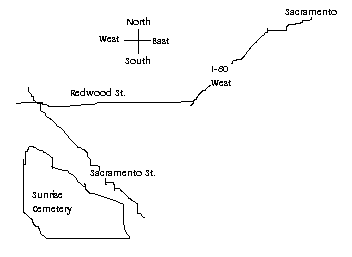 Take I-80 west towards San Francisco; exit at Redwood Pkwy and turn right onto Redwood Street. Follow Redwood Street to Sacramento Street and turn left. Sunrise Cemetery will be on the right side of the street.