Waterhole Cemetery
Waterhole Cemetery
East Hampton, Middlesex Co., Connecticut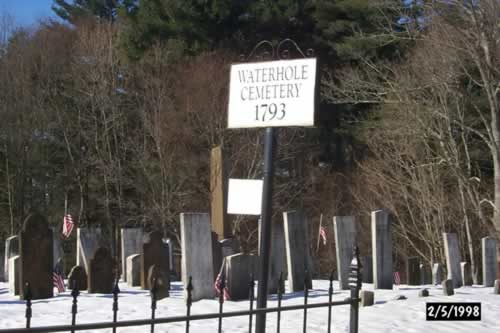 A Free Genealogy Database For Middlesex Co. Connecticut Cemeteries
***********************NOTICE******************************
All format in this database is Copyright © 2003-2016 by I Dream of Genealogy™ and can be utilized for private individual use. All content is copyright of compiler/submitter.
Original submitter/compiler of records will possibly have more information on the names on this list.
This database can be freely linked to but not reproduced in any manner. Any other use requires the express consent of I Dream of Genealogy. To search this database with most browsers hit Control-F
***********************************************************
Records to add to Waterhole Cemetery?
Submitted by
Waterhole Cemetery located on Waterhole Road in East Hampton, Middlesex Co., CT just past the Colchester town line
Surnames A - E
Ackley Ollive Beebe - b. 4-13-1752 - d. 12-25-1810 - age 59, wife of Samuel Ackley Stone Reads: "Sacred to the Memory of Mrs. Ollive Ackley, wife of Mr. Samuel Ackley, who died Dec 25th 1810, in the 59th Year of her Age. Reader, Behold as you pass by , As you are now so once was I. As I am now, so you must be, Prepare for death and follow me"

Ackley Samuel - b. 9-2-1747 - d. 1-6-1827 - age 79

Bigelow Abby Mandana Usher - b. 6-7-1833 - d. 9-26-1913 - wife of David S. Bigelow
Bigelow David Skinner - b. 4-3-1829 - d. 5-8-1905

Bigelow David Skinner Jr - b. 1869 - d. 7-9-1946
Bigelow Deborah Gates Smith - b. 3-1773 - d. 4-28-1842 - age 69, wife of Stephen Bigelow
Bigelow Eleanor M - b. 1894- d. 1952
Bigelow Hope Skinner - b. 7-27-1798 - d. 12-13-1870 - wife of Jonathan G., age 72
Bigelow Jonathan Cone - b. 10-18-1893 - d. 6-2-1913
Bigelow Jonathan Gates - b. 12-15-1798 - d. 3-23-1874 - aged 75 ys
Bigelow Mary Patricia - b. 7-4-1928 - d. 7-13-1929 - twin daughter of N.S. & E.F.
Bigelow Mary W Smith - b. 1873- d. 1966
Bigelow Stephen - b. 1-18-1762 - d. 3-20-1832 - age 70
Bigelow Infant Son - b. 9-1860 - d. 12-7-1860 - infant son of D.S. & A.M., age 3 months
Brainard Abby Ann - b. 12-8-1827 - d. 8-1-1880 - age 53
Brainard Amaziah - b. 6-12-1780 - d. 4-1-1841 - age 61
Brainard Ann Savage - b. 9-28-1795 - d. 2-9-1874 - age 78, wife of Reuben
Brainard Dolly Lucretia - b. 9-9-1817 - d. 3-30-1854 - age 36, dau. of Reuben & Roxy
Brainard Huldah Foot - b. 12-4-1792 - d. 8-9-1881 - age 88 yr, 8 mos., 5 days, wife of Amaziah
Brainard Jane E Rogers - b. 1853 - d. 1928 - wife of Leverett
Brainard Leverett - b. 1852 - d. 1910
Brainard Mary - b. 1-14-1781 - d. 12-31-1863 - age 83
Brainard Roxy Moroe - b. 3-23-1824 - d. 9-23-1848 - age 24
Brainard Stephen Day - b. 8-10-1813 - d. 5-1-1863 - age 50
Brainerd Stephen - b. 2-27-1699 - d. 3-30-1794 - age 95
Brainard Susannah Gates - b. 9-21-1705 - d. 4-29-1792 - age 86, wife of Stephen
Brainerd Charlotte F Williams - b. 4-10-1830 - d. 3-12-1907 - wife of Samuel N.
Brainerd Eliza Carrier - b. 8-20-1813 - d. 8-22-1852 - wife of William
Brainerd Everett - b. 2-21-1852 - d. 8-13-1852 - son of William & Eliza Carrier
Brainerd Frederick W - d. 1-20-1867 - age 9 yrs., child of S.N. & C.F.
Brainerd Hobert N - b. 11-1859 - d. 6-22-1860 - age 7 mos., child of S.N. & C.F.
Brainerd Hobert D - d. 3-8-1862 - age 1 yr., child of S.N. & C.F
Brainerd Lucy Day - b. 5-14-1752 - d. 5-20-1823 - age 71, wife of Capt. Wm Brainerd
Brainerd Margaret Foote - b. 7-6-1812 - d. 4-11-1860 - age 48
Brainerd Patience Foote - b. 2-1-1783 - d. 6-19-1859 - age 76, wife of Wm.
Brainerd Rachell Day - b. 11-22-1746 - d. 7-14-1839 - age 93, relict of Stephen
Brainerd Reuben - b. 9-24-1782 - d. 11-18-1859 - age 77
Brainerd Rhoda D Staples - b. 11-18-1809 - d. 4-25-1873 - 2nd wife of William
Brainerd Roxy - d. 3-11-1824 - age 32, wife of Reuben
Brainerd Samuel Newell - b. 4-14-1822 - d. 3-18-1893
Brainerd Capt Stephen - b. 1743 - d. 12-9-1820 - age 77, 5th Co., 25th Regt. Rev. War
Brainerd William - b. 2-23-1810 - d. 2-25-1882
Brainerd Capt William - b. 10-23-1773 - d. 3-18-1844 - age 70
Brainerd Ens William - b. 8-16-1746 - d. 1-26-1820 - age 74 yrs., Ens. 5th Co, 25th Regt. Rev War
Brown Clarissa H - d. 8-15-1851 - age 20, dau. of William & Lydia E
Brown Lydia Smith - d. 7-13-1892 - age 87yrs., 6 mos., wife of William A.
Brown William A - d. 9-15-1878 - age 75 yrs. & 7 mos.
Carrier Caroline - b. 9-7-1817 - d. 10-16-1885
Carrier Cornelia Jane - b. 9-10-1819 - d. 9-12-1847
Carrier David - d. 6-1-1861 - age 83
Carrier Emma - d. 1-25-1837 - age 17 mos., dau. of Amasa
Carrier Fruin - d. 8-30-1846 - age 68, wife of David
Carrier Mary A - b. 2-22-1810 - d. 4-10-1883
Carrier Mary Gates - b. 1755 - d. 10-31-1793 - age 38, wife of Lieut Uriah
Carrier O - infant
Carrier Oren - b. 1799 - d. 7-11-1861 - age 62
Carrier P R - infant
Carrier Prudence Robbins Loomis - b. 7-18-1795 - d. 4-30-1842 - age 47
Carrier Roderick R - d. 3-7-1875 - age 63 yrs, 6 mos, 17 days
Carrier Sophronia Ackley - b. 1792 - d. 11-4-1847 - wife of Amasa
Chapell Cynthia A - b. 1834 - d. 1927
Chapell Willard A - d. 1-4-1890 - age 33
Comstock Anna Willey - d. 1815 - wife of Christopher & dau. of Allen Willey Sr.
Comstock Christopher - d. 10-30-1802 - son of John II, age 82
Cramer George - b. 1876- d. 1918
Crandall Olive - d. 4-4-1882 - age 5 yrs., dau. of Stephen Vn. R
Crandall Phila A - b. 1795 - d. 7-2-1881 - age 86
Davenport Clara G - d. 9-5-1878 - age 22 yrs., 2 mos., wife of Eugene T.
Dixon Henry C - d. 2-28-1849 - age 58
Dixon Mary W Adams - d. 8-29-1883 - age 82, wife of Henry C.
Dixon Saloma - age 58, wife of Henry C.
Emmons James E - d. 7-10-1812 - age 10 yrs., son of Dyar & Phebe
Emmons Octavius - b. 8-20-1802 - d. 7-10-1861 - age 58
Emmons Prudence H - d. 3-30-1812 - age 10 mos., 14 days, dau. of Dyar & Phebe
Emmons Theresa A - d. 12-4-1834 - age 18 mos., dau. of Octavius & Violetta (Viletta)
Emmons Viletta House - b. 1810 - d. 9-11-1853 - age 43, wife of Octavius