Chestnut Hill Cemetery
Chestnut Hill Cemetery
Colchester, New London Co., Connecticut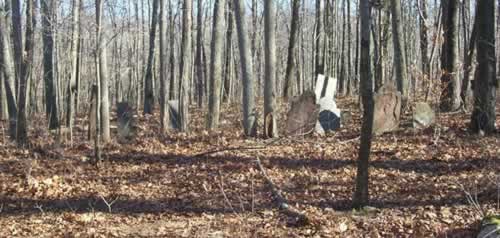 A Free Genealogy Database For New London Co. Connecticut Cemeteries
***********************NOTICE******************************
All format in this database is Copyright © 2003-2016 by I Dream of Genealogy™ and can be utilized for private individual use. All content is copyright of compiler/submitter.
Original submitter/compiler of records will possibly have more information on the names on this list.
This database can be freely linked to but not reproduced in any manner. Any other use requires the express consent of I Dream of Genealogy. To search this database with most browsers hit Control-F
***********************************************************
Records to add to Chestnut Hill Cemetery?
Submitted by
This is a complete listing of Chestnut Hill Cemetery, Palmer Rd., Colchester CT 06415 - Directions: Chestnut Hill Road to Palmer Road to end of road. Take dirt path up to top of hill and Cemetery is in middle of woods. The cemetery is grown over, several field stones, some very hard to read, some laying down.
General Location Map of Chestnut Hill Cemetery:
Cemetery List
Cavarly Alfred W - d. 8-13-1836 - age 7 yr, 9 mos, 13 days son of J.D. & L.T.
Cavarly Capt John- b. 11-24-1731 - d. 8-23-1825 - age 94, no war marker
Cavarly Mary Swan - d. 8-17-1803 - age 72
Dart Anna Tucker - b. 1774 - d. 12-16-1844 - age 74, wife of Caleb
Dart Caleb - b. 3-1773 - d. 11-12-1849 - age 76 yr, & 8 mo
Hall Hannah Cavarly - b. 5-30-1754 - d. 5-23-1794 - age 40, wife of Joshua & dtr of Capt. John Cavarly
Hall Joshua - b. 7-4-1741 - d. 5-5-1812 - age 70
Hall Mary Ann - b. 1800 - d. 12-7-1819 - age 19, dtr of Capt. Joshua & Betsey
Tracy Hezekiah - d. 9-7-1823 - age 31