Day Cemetery
Day Cemetery
Colchester, New London Co., Connecticut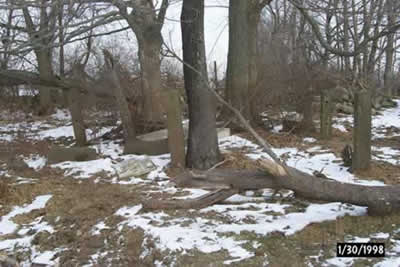 A Free Genealogy Database For New London Co. Connecticut Cemeteries
***********************NOTICE******************************
All format in this database is Copyright © 2003-2016 by I Dream of Genealogy™ and can be utilized for private individual use. All content is copyright of compiler/submitter.
Original submitter/compiler of records will possibly have more information on the names on this list.
This database can be freely linked to but not reproduced in any manner. Any other use requires the express consent of I Dream of Genealogy. To search this database with most browsers hit Control-F
***********************************************************
Records to add to Day Cemetery?
Submitted by
This is Day Cemetery located on Route 85 (New London Road) in Colchester, Ct 06415 Cemetery is land locked, private property in back of barns and farm house, few hundred feet from road and just after Homonick Road on Route 85. Cemetery terrible condition - No stones left standing. All laying down, most broken.
General Location of Day Cemetery
Cemetery List
Day Albert - b. 3-16-1803 - d. 3-28-1803 - son of Charles & Anna age 12 days
Day Anna Lovett - b. 7-31-1801 - d. 6-9-1860 - daughter of Charles & Anna, died age 58
Day Anna Worthington - b. 1775 - d. 6-28-1853 - age 78
Day Artemas W - b. 12-11-1812 - d. 10-5-1881 - son of Charles & Anna age 68
Day Charles - b. 7-14-1763 - d. 8-29-1836 - age 73
Day Col Charles F - b. 1-12-1798 - d. 3-29-1878 - son of Charles & Anna, age 80 yrs
Day Eliza Maria - b. 9-21-1804 - d. 5-23-1887 - daughter of Charles & Anna, age 82 yrs
Day John - b. 5-16-1815 - d. 12-12-1835 - son of Charles & Anna, age 21 yrs
Day Nancy - b. 12-25-1797 - d. 1-6-1797 - daughter of Charles & Anna, age 12 days