Newton - Ransom Cemetery
Newton - Ransom Cemetery
Colchester / Salem, New London Co., Connecticut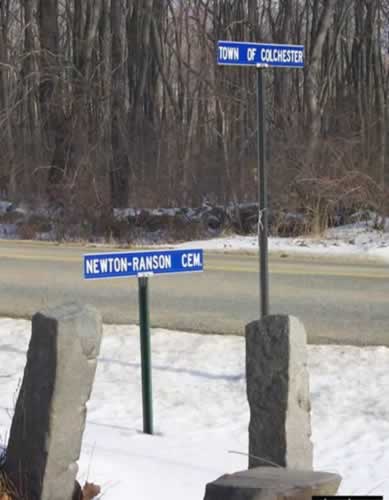 A Free Genealogy Database For New London Co. Connecticut Cemeteries
***********************NOTICE******************************
All format in this database is Copyright © 2003-2016 by I Dream of Genealogy™ and can be utilized for private individual use. All content is copyright of compiler/submitter.
Original submitter/compiler of records will possibly have more information on the names on this list.
This database can be freely linked to but not reproduced in any manner. Any other use requires the express consent of I Dream of Genealogy. To search this database with most browsers hit Control-F
***********************************************************
Records to add to Newton - Ransom Cemetery?
Submitted by
This is a complete listing to best of my knowledge of the Newton-Ranson Cemetery located on West Road, Colchester, New London County, CT 06415. Cemetery is on the town line of Colchester and Salem, CT - Town line splits the cemetery.
Approximate and General Location of Newton - Ransom Cemetery
Cemetery List
   Hamilton Eunice - born Abt. 1776 - died 12-22-1831 - age 55, wife of Gurdon Hamilton
   Hamilton Gurdon - born Abt. 1751 - died 2-5-1831 - aged 80
   Hamilton Gurdon Waterman - born 7-11-1808 - died 10-28-1855 - aged 47
   Hamilton Guy Wheeler - born 11-22-1819 - died 3-31-1894 - aged 75
   Hamilton John Rogers - born 4-26-1815 - died 5-26-1874 - aged 59
   Hurlbut Asaph - born 9-10-1772 - died 12-3-1810 - in 39th year of his age
   Hurlbut Hannah Woodbridge - born 1774 - died 2-27-1809 - in 35th year of her age, wife of Asaph Hurlbut
   Newton Asa - born 2-17-1754 - died 3-29-1827 - age 73
   Newton Asa - born 10-3-1782 - died 8-3-1836 - age 54
   Newton Israel - born 2-27-1725 - died 7-9-1804 - age 79
   Newton Lois Treadway - born 2-2-1720 - died 12-9-1806 - age 86, wife of Israel
   Newton Laura Maria - born 2-15-1802 - died 6-23-1807 - age 5, daughter of Asa & Lydia Newton
   Newton Louisa - born 1-23-1796 - died 1-16-1832 - aged 35, daughter of Asa &Lydia
   Newton Lydia Worthington - born 10-22-1760 - died 1-30-1832 - age 71, wife of Asa, broken stone
   Newton ? - born 2-15-1802 - died 1802 - twin sister of Laura M, daughter of Asa & Lydia Newton
   Ransom Anna Comstock - born 1-28-1781 - died 5-18-1856 - wife of Justin Ransom
   Ransom Capt. Amasa - born 8-13-1741 - died 6-19-1818
   Ransom Asahel - born 5-30-1746 - died 4-6-1835 - Revolutionary War, 20th Co, 12th Regt., age 89 yrs
Ransom Asaph - died Dec 1810
   Ransom Justin - born 4-8-1780 - died 3-30-1851 - son of Asahel Ransom, aged 70 yrs, 11 mos, 22 days
Ransom, Mrs. Nabby - died 5-19-1840 - age 89 - wife of Capt. Amasa Ransom
   Ransom Sophia Little - died 4-5-1821 - wife of Capt. Asahel Ransom
   Reid Mrs. Charity Bourne - born 1754 - died 1-5-1816 - in 62nd yr of age, wife of Samuel Reid
   Reid Hopey Chase - born 6-22-1786 - died 6-26-1817 - wife of Samuel Reid Jr., daughter of Augustus & Olive Chase of Mass. Died aged 31